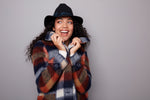 Hello! 
I can't believe it's coming up on September already, where has the summer gone?
Now's an amazing time to make your way into the store and check out all the new fall arrivals, and scoop up some transition pieces from summer while they're on sale. We have received new shipments from Charlie B, FDJ and much more.
Please note that Pazazz will be closed on Saturday September 3 for an extended Labour Day holiday.
- Brenda