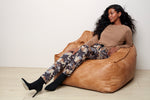 Happy Thanksgiving! It's hard to believe it's already that time of year. If you're getting excited for a big family dinner like we are, come in and check out our fun pants from Charlie B as shown in the image. These pants feature a flat elastic waist so you can enjoy your meal in comfort without sacrificing style. 
We are taking a few extra days to spend time with family this holiday weekend, and so have modified hours. If you have any questions while we are closed, you can use our chat feature, or send an email to brenda@pazazz.ca and we will respond at our earliest convenience. 
Thanksgiving Hours 
Friday October 7: 10am - 2pm
Saturday October 8: Closed
Sunday October 9: Closed
Monday October 10: Closed
See you on Tuesday October 11 at 10am!
- Brenda